The links in this post contain affiliate links and I will receive a commission if you make a purchase after clicking on my link.
16 amazing Easter basket ideas for wife that will make your wife love you even more.
Easter brings joy to our world and homes because Christ was born for us.
You'll find the best and most incredible Easter baskets ideas for your wife that she will appreciate very much.
This is the time when we give to people such as our loved ones, friends, wives, husbands, sisters, kids, everyone in our life that is important to us.
And we want to always appreciate them by either making an Easter basket ourselves or getting Easter basket ideas for wife from a friend.
We've put together the best and most lovely Easter basket ideas for your wife, a unique Easter basket, a filled Easter basket, Easter gifts for toddlers, and more.
As a wife myself, It can be hard for husbands to please us when it comes to gifts.
Some wives don't care what they've gotten as a gift, how small, big, Cheap, or expensive just something simple and I'm in this group.
And some wives want expensive things such as gift jewelry and more.
In this post, you'll explore some great finds that will put your mind at ease and which your wife will love as well.
This post is all about Easter basket ideas for your wife that will make her love you even more!
Best Places To Get Easter Basket Ideas For Wife:
* Virgin Experience Gifts
* Walmart
* Calpalbo's
* Gourmet Gift Basket
In these lovely Easter basket ideas for your wife, you'll find what she likes.
Best Easter Basket Ideas For Wife:
Easter Basket Ideas For Wife:
Gourmet Gift Baskets
These gluten-free French treats are made with a fragrant and flavorful filling, sandwiched between two light and airy meringues 'cookies.'
Includes two each of five macaron flavors: lemon, pistachio, raspberry, vanilla, and salted caramel.
There's no sweeter way to wish a wife a happy Easter than with these spring-themed Easter Macarons!
No need for a mixologist to have fun with handcrafted cocktails or mocktails with this Healthy Hydration Gift Basket.
Just use 3 parts of the all-natural mixer with 1 part alcohol or a non-alcoholic substitute.
You can even use the Pellegrino in this gift to create a non-alcoholic sparkling lemonade!
Don't forget to slice the fresh lime, lemon, and oranges to add flavor and hydration to your beverage.
Included two tasty nut butter superfood bars and a Keto mix consisting of pumpkin & sunflower seeds, almonds, walnuts, and coconut. This is a perfect healthy gift!
This Happy Easter Fruit Tower is a unique spin on an age-old tradition. Best gift for a wife.
Comprised of three polka-dotted boxes filled with orchard-fresh oranges, olive oil & sea salt water crackers, summer sausage,
mouthwatering Vermont sharp cheddar cheese, creamy & rich wafer cookies, and roasted cashews. A deniable delightful gourmet celebration for this Easter!
4. Easter Popcorn Tin – People's Choice 1 Gallon
Easter candy is great and all, but what if you prefer a different kind of treat?
This festive popcorn tin that's filled to the brim with delicious small-batch gourmet popcorn that you won't find anywhere else!
You can choose your favorite flavor combination from Traditional or People's Choice and either a 1-gallon or 2-gallon festive Easter tins designs.
This is the kind of Easter basket a wife will love to have! I love this Popcorn!
Unique Easter Baskets:
This classic collection gift box contains Cheddar cheese, crackers, fontina cheese, roasted almond, olives, and sausage.
A healthy gift box that anyone will love to have and great for a woman friend! These looks delicious!
Oh, my world! These Capalbo's Sweet Tooth Bakery Box looks so amazing!
Anyone will love to have this for a morning tea or coffee. A lovely bakery box as an Easter gift for a dear friend.
Looking to pamper your woman this Easter? This Pampered Girl Gift Basket is great to
pampered with especially for expecting moms. This gift basket will be well appreciated!
Unique Easter Baskets:
Make Easter morning bright with this delightful gift!
Inside a beautiful split willow basket, artfully arranged classic treats, including a solid chocolate bunny,
gooey marshmallow PEEPS, and bright jelly beans, along with a milk chocolate bunny.
A delightful gift that's sure to make this Easter memorable!
This irresistible basket with cheddar cheese, oatcake biscuits, flatbread crackers, garlic cheese, jalapeño, Monterey Jack cheese, Finocchiona salami, mixed nuts, and vegetable cheddar cheese.
also included sweet treats like hazelnut Cubetti wafer cookies, bunny-shaped cookies, peanut butter chocolate chip cookies, and white chocolate-covered Oreos. Yum!
Virgin Experience Gifts
Want to have some fun this Easter? I think this Chicago Gourmet will be a great place for your family and friends.
This is a place to relax and enjoy some quality time with the people you love! Enjoy!
This Baked Goods Sampler gift basket full of tempting gourmet treats is perfect for any occasion!
Inside this signature baskets, brought together some delicious favorite baked goods,
like luxuriously rich brownies and irresistibly crisp and chewy cookies, creating a selection that's perfect
either as a gift or for entertaining your guests! *All Baked Items are Wrapped for Freshness.
Filled Easter Basket: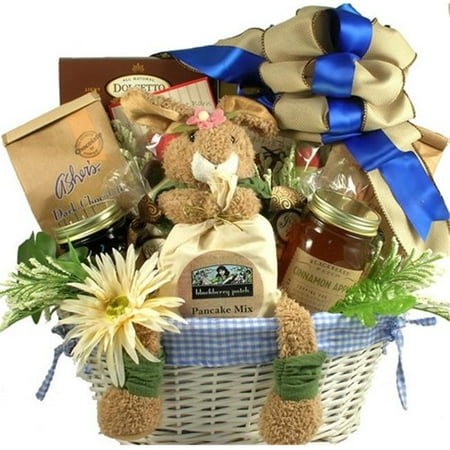 This Easter, help them to celebrate that very special morning by sending a gourmet breakfast basket, right to their doorstep!
This wonderful Easter gift includes: Brown Easter Bunny "Ester" Shelf Sitter Pancake Mix In An Old fa Easter morning.
Holds a truly special place in the hearts of most of us. Lasing memory of it, the meaning of it, and the moments together.
You'll be the talk of the town with Coastal Ridge California Merlot,
eight pieces of farm-fresh fruit, cheese, crackers, and gourmet goodies! What a thoughtful gift basket!
We can't forget a new mom for this Easter. The new baby girl has just come home and her closet will be full of pinks and purples thanks to you.
This practical, two-handled, collapsible animal storage cube has practically everything she will need to wear!
Favorite cookie into the perfect Easter treat! Taken classic Oreo Cookies,
dipped them into imported Belgian chocolate, embellished them with festive appliqués,
and drizzled them with delicate ribbons of a signature chocolate confection.
Quantity of 12 pieces perfect share for the whole family.
FREQUENTLY ASK QUESTIONS:
Easter Basket Ideas For Adults No Candy
Easter basket ideas for adults with no candy can include,
Pop Corn
candles
bath set
beach towels
cooking accessories
perfume
Wine
Beddings.
You can be very creative with these things that will make a lovely and lasting impression.
Do adults get Easter baskets?
Easter baskets used to be for kids but not anymore. An adult can enjoy an Easter basket too.
Anything from breakfast basket, kitchen gadgets, home decor, anything you can think of that will be useable can be made into an Easter basket for an adult.
There are several non-candy Easter basket ideas you can put together.
Teddy bears
Craft
Bubbles
Reading books
Water beads
Wood or foam letters
Drawing books
Little car toys
What do you put in an Easter gift basket?
What to put in an Easter gift basket depends on who the gift basket is for.
In general, you can put cookies, breakfast ingredients, fruit mix with nuts, Cheese and crackers, wine, can beer, and more.
It's always good to go with simple and attractive things for your Easter gift basket.
Easter basket ideas for adults no candy
Easter basket ideas for adults with no candy can include,
Pop Corn
candles
bath set
Fruits
Ear buds
Wine
Mug
pendant.
You can be very creative with these things that will make a lovely and lasting impression.
This post was all about Easter basket ideas for wife for this Easter celebration!
More Recommended Read…
* 21 BEST WINE GIFT BASKETS FOR VALENTINE'S DAY 2022…
* 10+ THOUGHTFUL GIFT IDEAS FOR EVERYONE | EVEN WITH EVERYTHING…
* INCREDIBLE VALENTINE'S DAY GIFTS THAT YOU WILL LOVE…
If you like this post. I will love for you to share with a friend. And please leave me any questions you have. Thank you.